2020
2019
2018
2017
2016
2015
2014
2013
2012
2010
2009
2008
2007
2006
2005
2004
2003
2002
2000
1994
1993
1991
1989
1988
1987
1984
1982
1977
1973
1972
1968
1963
1959
1957
1952
1951
1948
1946
1705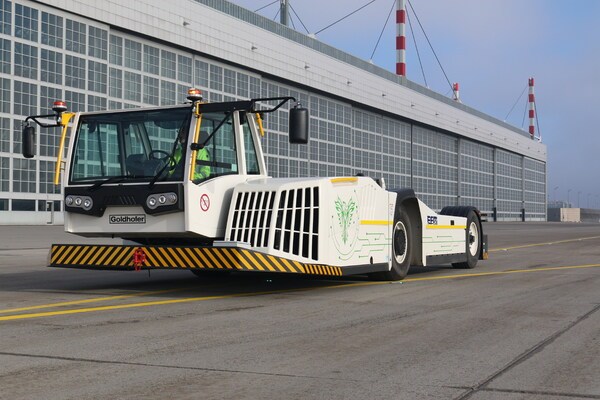 Goldhofer finishes its tests on the »PHOENIX« E towbarless aircraft tractor with flying colors and provides the flagship among Goldhofer's towbarless aircraft tractors for action on the airport apron.
With the new »SHERPA« E generation Goldhofer launches the improved version of its zero-emission electric cargo tractor.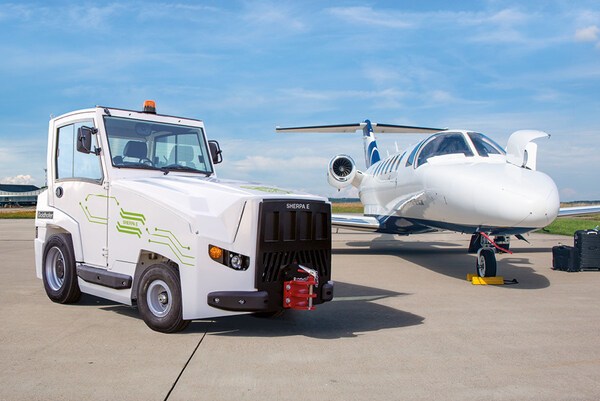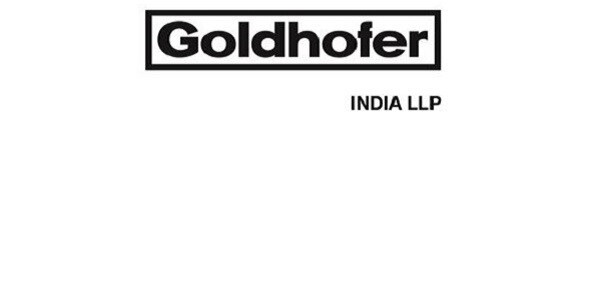 Goldhofer establishes the Goldhofer India LLP in Bangalore as a production and sales site for the Indian market and the establishment of a service hub and training center there.
Goldhofer introduces new special blade hauler »BLADES« in combination with Goldhofer's self-tracking trailing dolly to handle latest generation of wind turbine blades.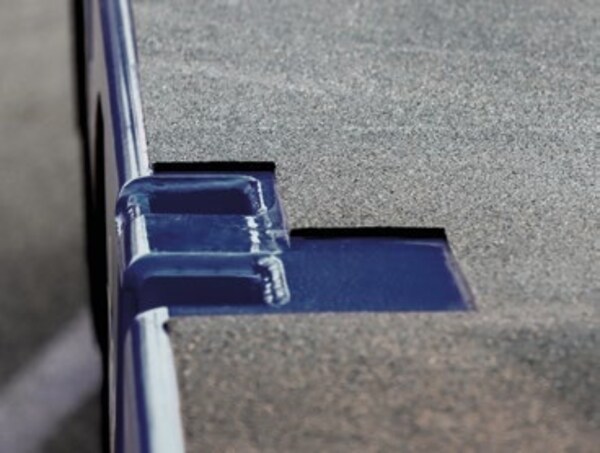 With TRAFFIDECK GO Goldhofer introduces a new, innovative coating to the market that among others offers more loading height than conventional rubber plates, increased payload due to the lower total weight and a high friction coefficient for optimal load securing.
Goldhofer opens a new production site with Goldhofer Ukraine LLC.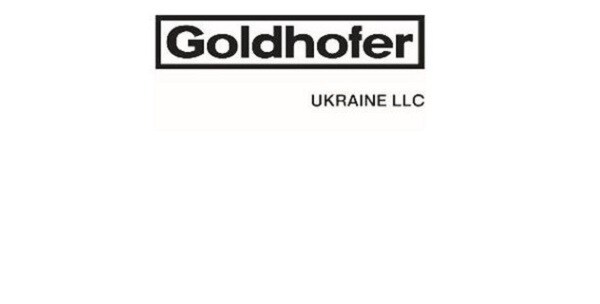 Goldhofer unveils the new »STEPSTAR« semi lowloader for higher payloads and greater flexibility and sets itself the goal of establishing a new standard in the market, the »GOLD STANDARD«!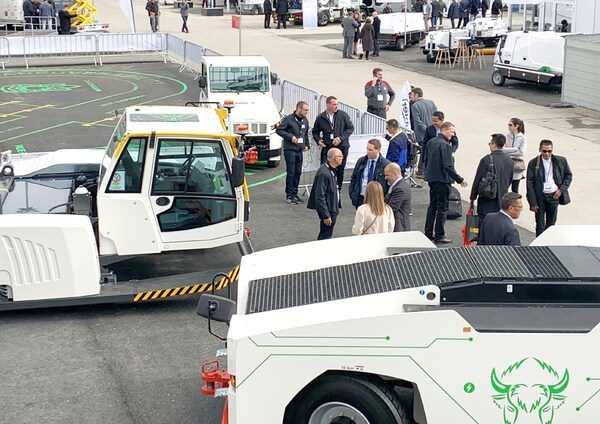 At inter airport Europe the prototype of the »PHOENIX« AST-2E with »IonMaster« technology, which was introduced at the show for the first time, was met with keen interest.
At inter airport Europe Goldhofer presents its enhanced portfolio of e-mobility vehicles with the towbar tow tractor »BISON« E 620.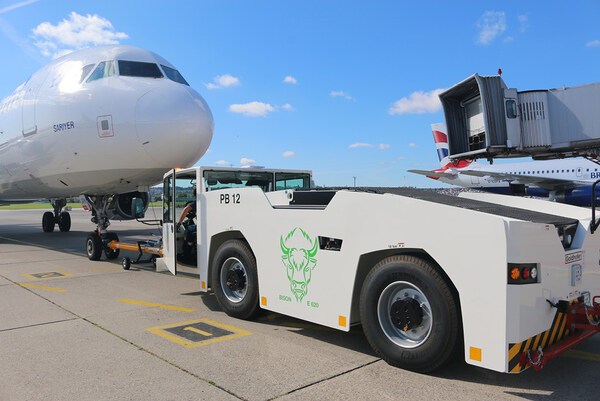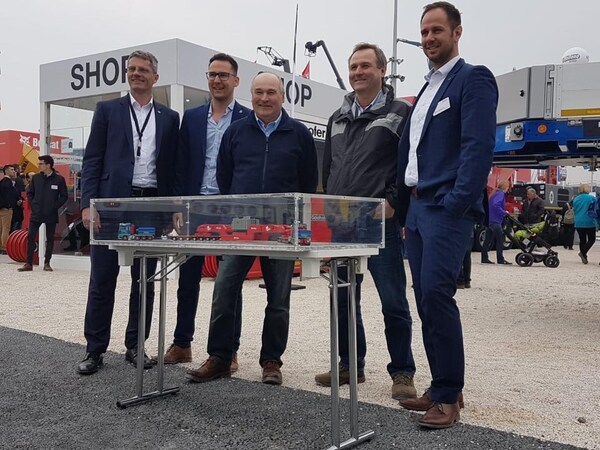 Goldhofer introduces the new high girder bridge »FAKTOR« 5.5 at bauma for transporting extremely heavy loads such as transformers, generators or other industrial components.
Enercon puts the world's longest »VENTUM« flatbed semitrailers with pendular axles from Goldhofer into operation.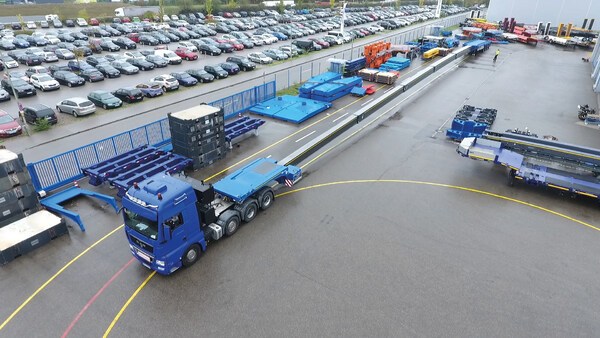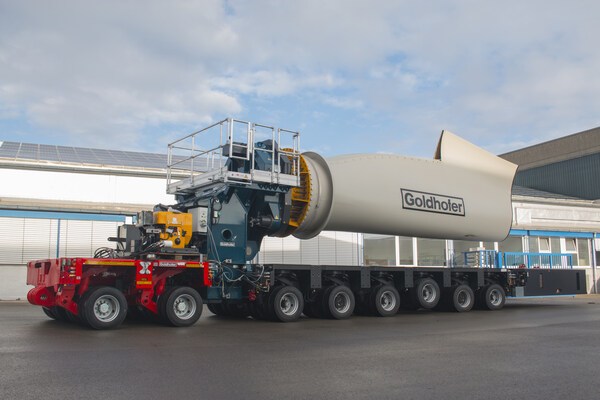 The FTV 500 is the industry-leading flagship for rotor blade transportation, the FTV 500 celebrated its debut in 2018 and, with the aid of an adapter, it is also possible convert it flexibly to the smaller FTV 300.
The "BLADEX" blade tip lifting device enables Goldhofer to set a benchmark for the transport of wind energy blades.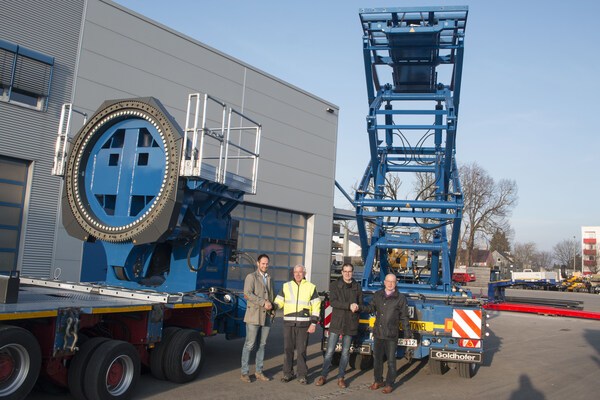 Innovative, well-thought-out, multi-functional: The »BISON« enables Goldhofer to present a completely new family of conventional tow tractors at GSE Expo in Las Vegas in 2018.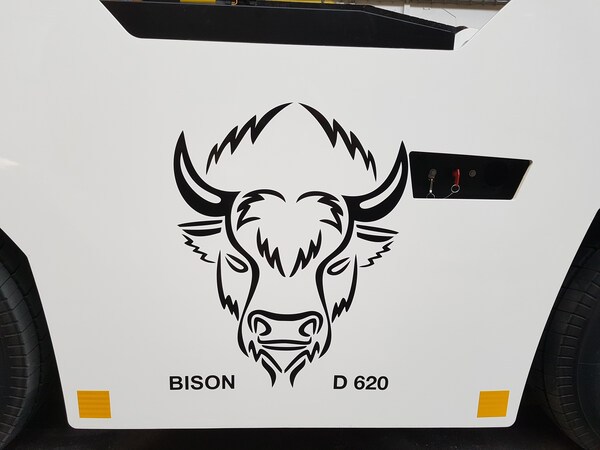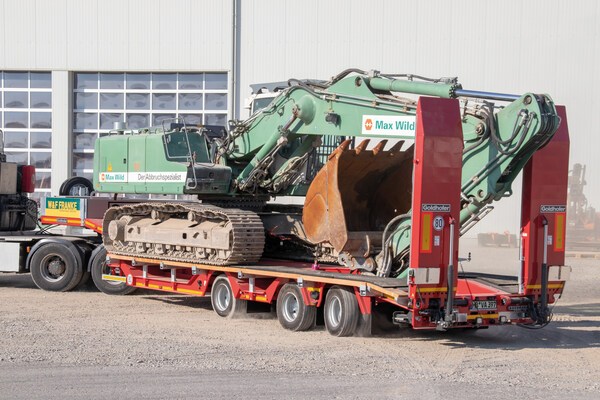 The Goldhofer »ALLROUNDER« draws the crowds at the IAA Commercial Vehicles Fair. The innovative Goldhofer solution is always ready for any challenge in construction logistics.
The »ARCUS« PK has its world premiere at the IAA Commercial Vehicles Fair in 2018 - a semi lowloader with a completely new steering system.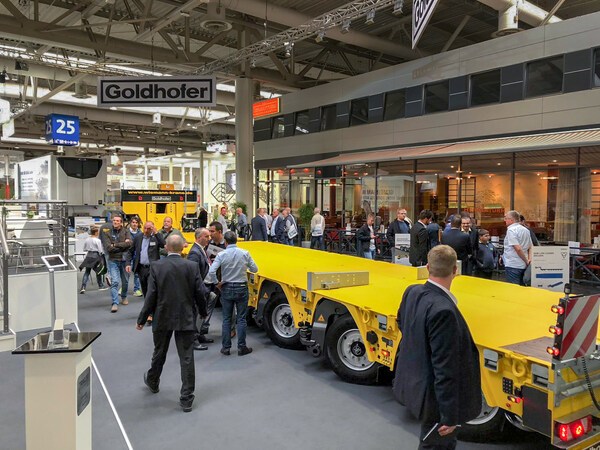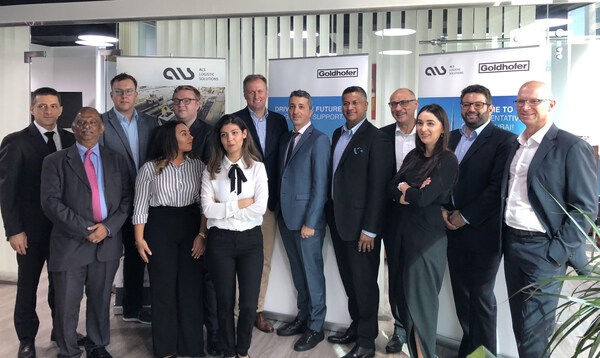 ALS Logistic Solutions and Goldhofer open up a joint Representative Office and Regional Logistics Center in Dubai to strengthen Goldhofer's presence in the Middle East and Africa.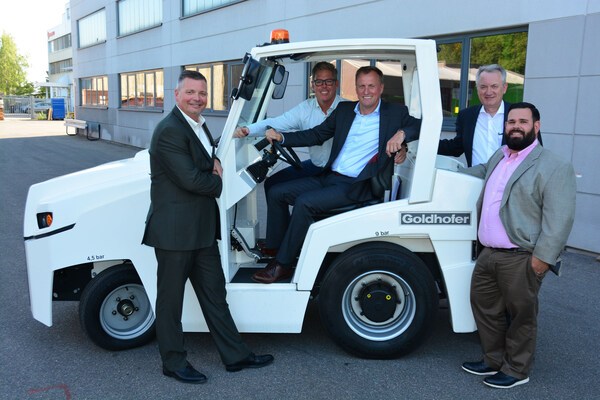 The foundation of Goldhofer Inc. in Delaware USA, and the majority takeover of the long-standing sales and service partner Flite Line Equipment, enables Goldhofer to expand its operations on the American continent.
The latest generation of future-ready cargo tractors and transporters with highest-possible availability and lowest TCO, »SHERPA« are the highlight at inter airport Europe.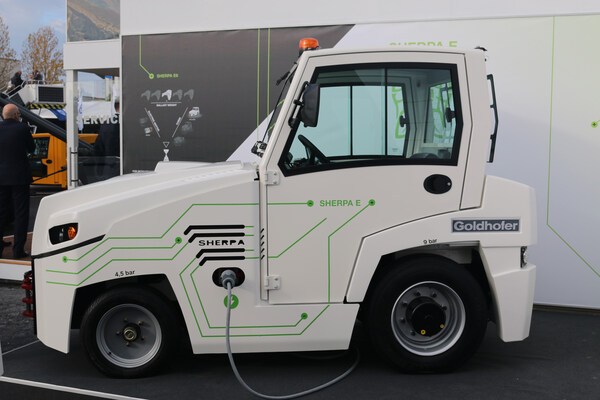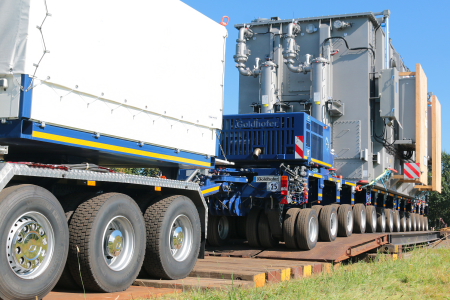 The »ADDRIVE«, which is applicable both as a self-propelled vehicle and as a towed module, is presented with outstanding success at bauma 2016 in Munich.
Commissioning the new logistics center with an area of 6,000 m².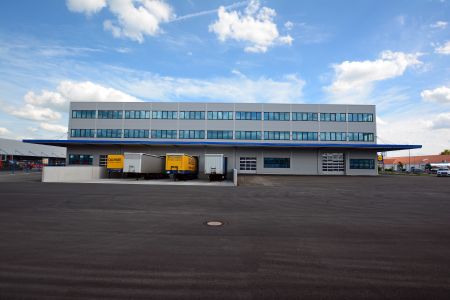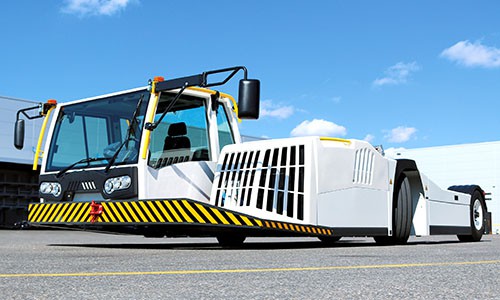 The fourth generation of the towbarless tow tractors: The AST-2 »PHOENIX« lands at inter airport Europe.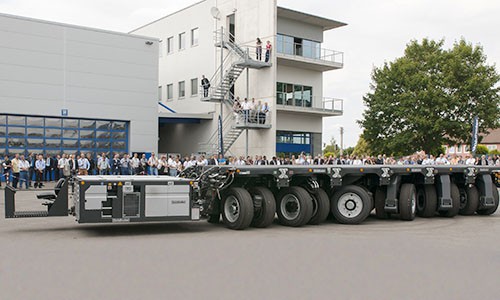 The revolution in heavy-duty transport: Hydraulic width-capable adjustment with the PST/ES-E (285).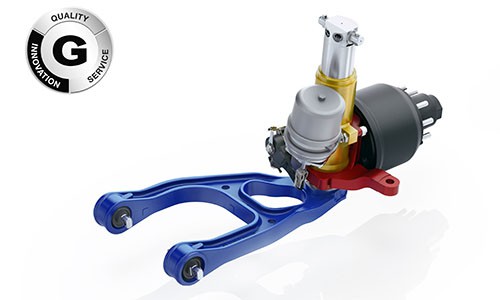 Presentation of the MacPherson Axle (MPA) at bauma Munich.
Acquisition of the Schopf Group and expansion of the aviation product range.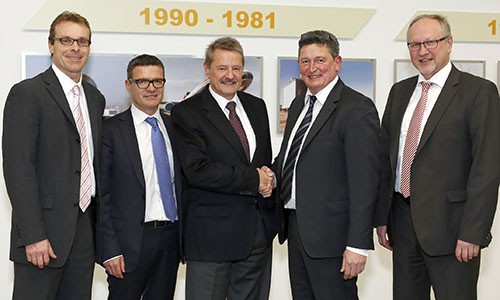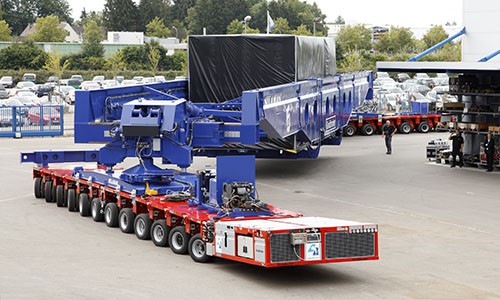 »FAKTOR« 5 – 100 t to move loads of 500 t: Presentation of the new high girder bridge.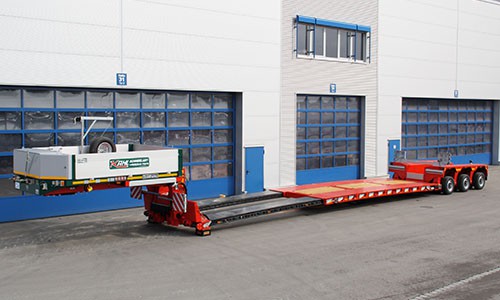 First lowloader semitrailer with STZ-VP pendular axles makes its debut at bauma Munich.
SFL100 and SFL140 ore loader in the 10-14 t payload category.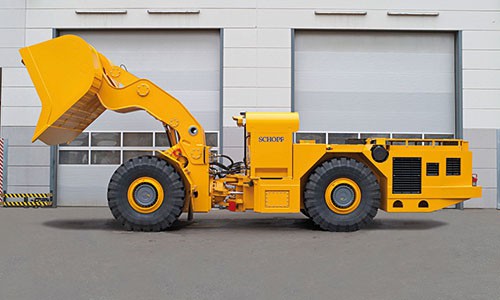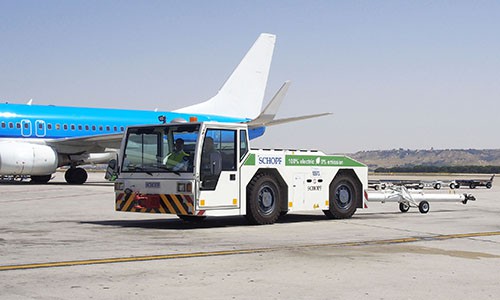 Presentation of the electrically-propelled F210 and F110e tractors at inter airport Europe.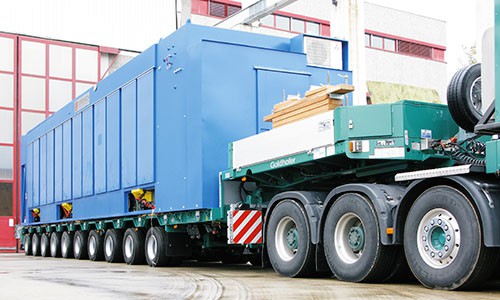 First 10-axle semi lowloader with steering shank axles and hydraulic axle compensation.
First fully electronically steerable self-propelled vehicle with an axle load of 60 t and a width of 2.43 m.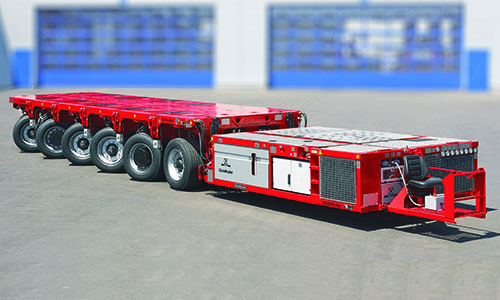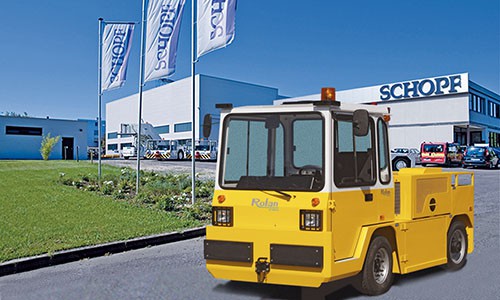 Baggage and cargo tow tractors like the ZH 4 complement the product range.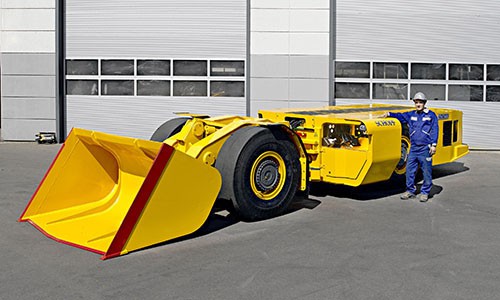 SFL60XLP underground mining loader, especially developed for ore mining of precious metals, is presented at bauma Munich.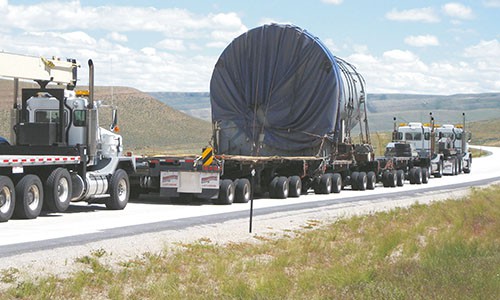 THP/DL modular trailer with special axle spacing for USA.
Goldhofer compact system XLE up to 110t payload.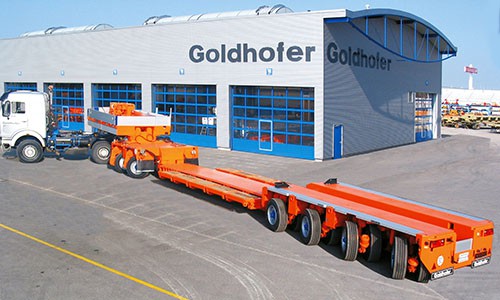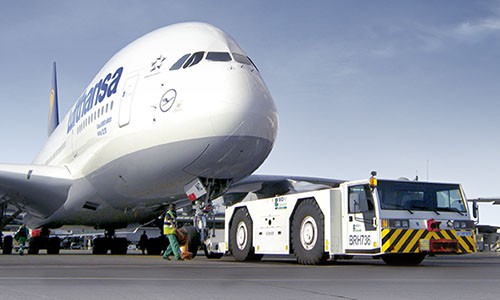 Adaption of the F396 to the specific demands of the Airbus A380.
The worldwide-largest rod-free Goldhofer AST-1 X towbarless tow tractor with an A380 at Airbus in Hamburg.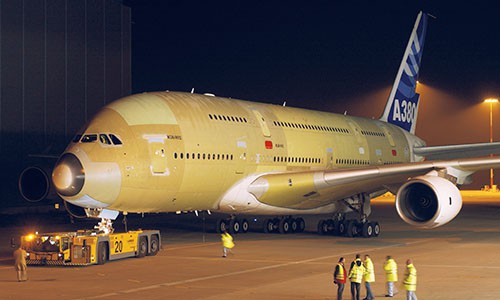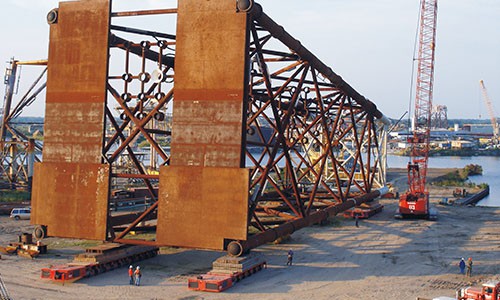 Fully electronically steerable modular transporter with a never previously achieved construction height of 920 mm.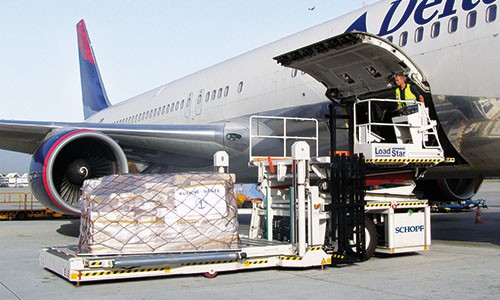 LoadStar loading vehicle.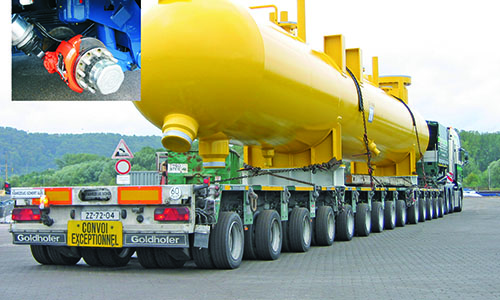 THP/UT modular trailer with air-operated disc-brakes.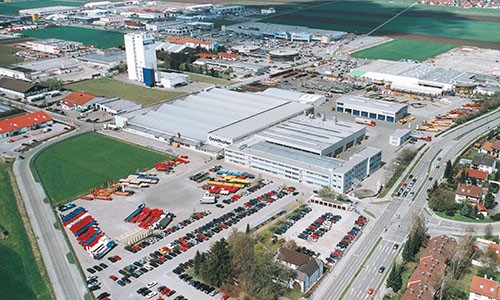 Goldhofer becomes a public limited company.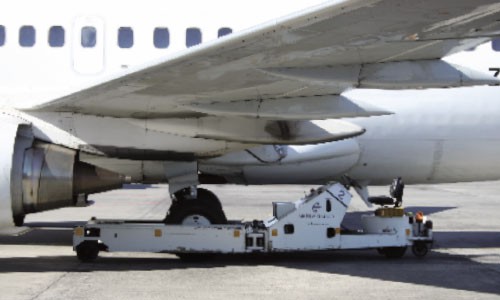 Self-propelled heavy-duty module with electronic multiple-route steering +/- 110°.
Self-propelled passenger stairs PS560.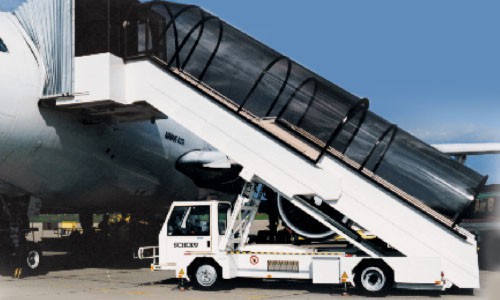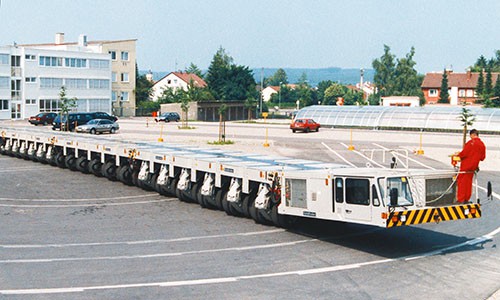 Self-propelled heavy-duty module with electronic multiple-route steering +/- 110°.
The complete AST family: AST-1/AST-2/AST-3.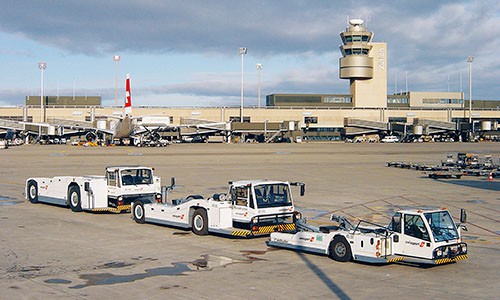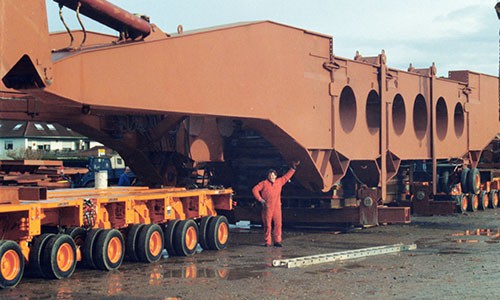 High girder bridge with 385 t payload.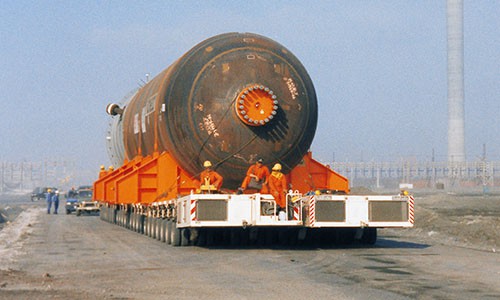 First self-propelled heavy-duty module with hydrostatic traction drive.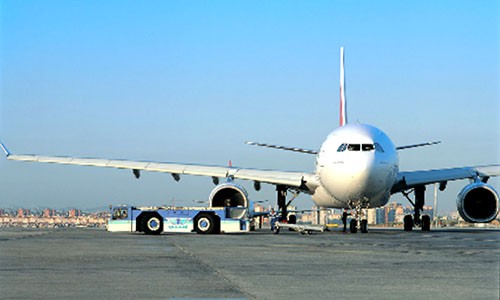 The F396 powerhouse F396 with drawbar pulling force of up to 380 kN.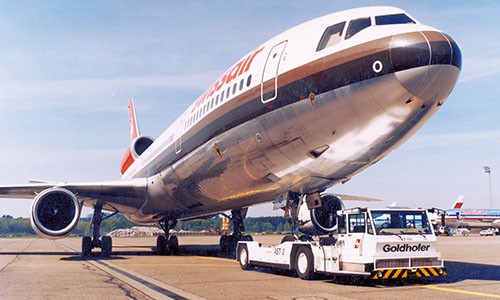 First towbarless tow tractor.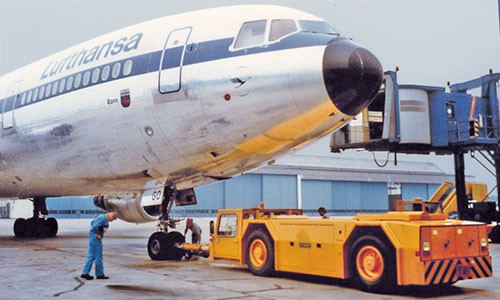 First electrically-powered aircraft tow tractor F246.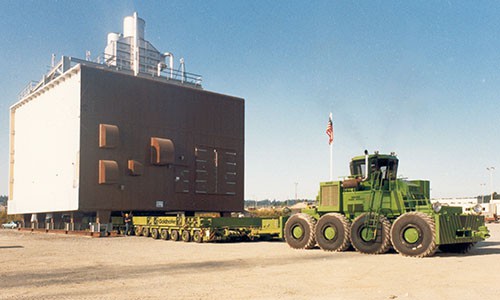 First electrically-powered aircraft tow tractor F246.
Underground loader with electric propulsion for even more safe operation in the mining industries.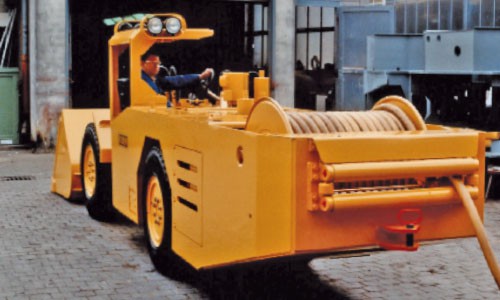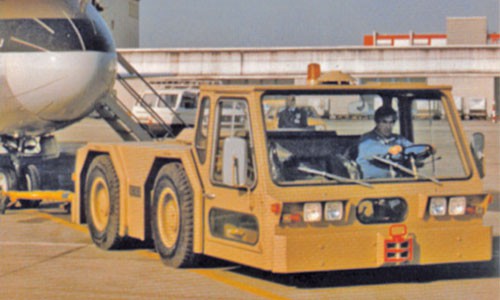 Expansion of the tow tractor product range: smaller, high performance aircraft tow tractor F106.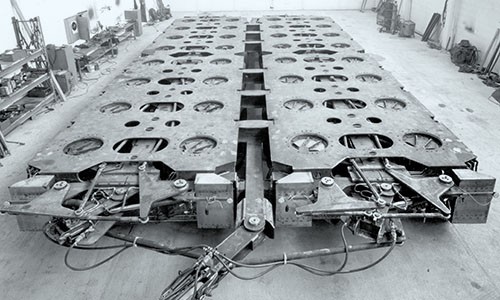 First THP/S 8 side-by-side combination.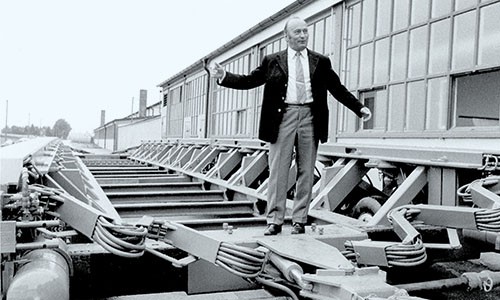 Alois Goldhofer presents the first THPK modular trailer.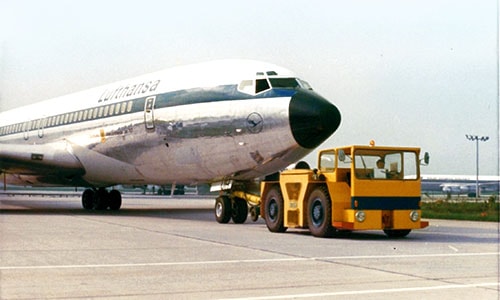 First aircraft tractor F130.
Entry into the mining industries with the first underground loader L110.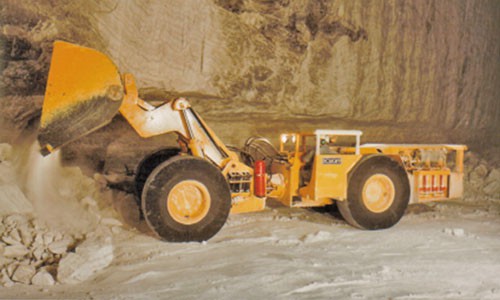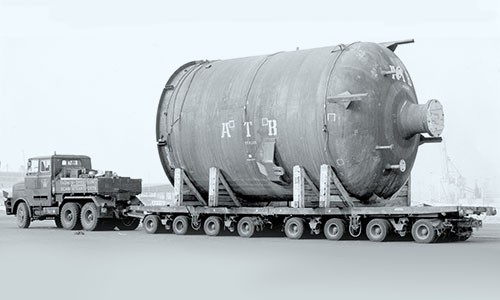 Heavy-duty trailer with mechanical axle suspension and steering. Forerunner of the current module system.
First universal shovel loader for construction and industrial purposes.
First loader with oscillating steering in the 1 cubic meter class.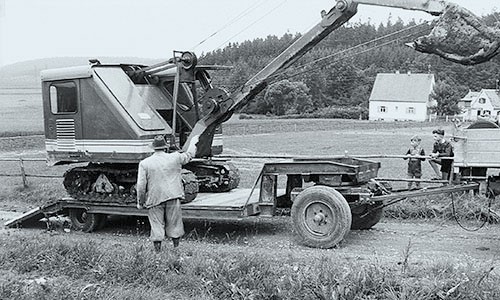 First rear-end lowloader.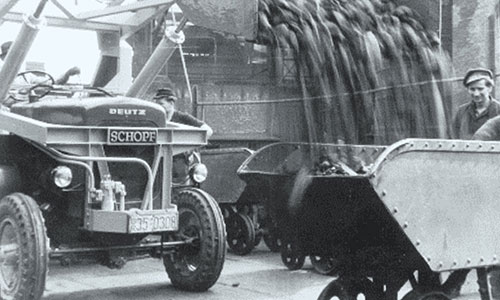 First Schopf shovel loader L27 with hydraulic operation of the shovel.
Establishment of Schopf Maschinenbau GmbH by engineer Jörg Schopf.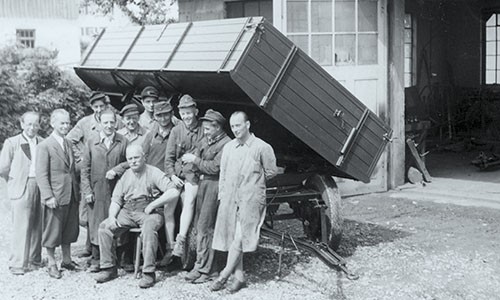 Establishment of "Allgäuer Fahrzeugwerke Alois Goldhofer KG" and production trailers.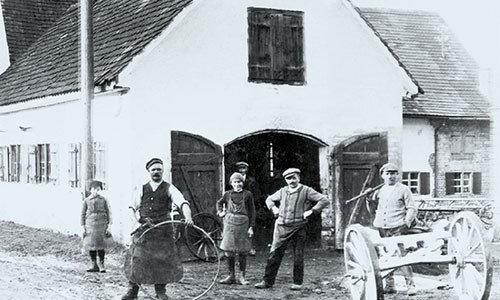 The Goldhofer forge in Amendingen is mentioned for the first time.