»BISON« D FAMILYFUTURE-Proof Aircraft Tractors
The »BISON« family consists of a comprehensive range of aircraft tow tractors capable of handling passenger and cargo aircraft of 150 t to 600 t MTOW.
Because the product family is modular, customers can choose between diesel and electric power trains.
»BISON« D 370-1500MODULAR PLATFORM
Adapt your vehicles to your individual needs!
Different sizes, power trains, performance classes, and cabin variants make the »BISON« family a sophisticated overall package that promises maximum safety and operating comfort.
Uniform operating system with high operating comfort
Find the perfect size and performance for your applications
The flexible ballasting enables custom configuration

COUNT ON »BISON«MAXIMUM PERFORMANCE
Sophisticated cockpit with simple operation and ergonomic seat position for the entire »BISON« family
Spring-suspended cabin with outstanding view
Excellent driver's cabin air conditioning
2-shift operation thanks to large diesel tank and »IONMASTER« technology
The simple, safe, and ergonomic handling ensures less damage, and thus reduced repair outlay
Excellent visibility of the couplings from the cabin
Safe single-man operation
Different driving modes for flexible maneuvering: all-wheel steering, front-wheel steering, and crab steering
Optimal brake configuration for each »BISON« model
Robust, long-lasting components made by quality manufacturers
Carry-over part strategy for the entire »BISON« family
Optimal, long-term operational availability
Adaptability even to changing conditions through flexible ballasting concept
THE »BISON« DINDIVIDUAL VALUE

DIAGNOSTICS AND MAINTENANCE
Information and error messages as plain text in the multifunction display
Sophisticated maintenance access
Time-saving operations and 1,000 h maintenance intervals
Optimized hydraulic system with reliable gear pumps for long-term use
Lubrication-free drive shaft
Minimal-effort fluid change
Separate hydraulic oil tanks for steering and brakes
In use on every continent and in all environmental conditions, from -20 °C to +50 °C
Three cabin variants: Cabless, open cab, closed cab
Uniform operation through a consistent vehicle concept with carry-over parts strategy
Environmentally friendly and cost-effective
VEHICLE-SPECIFIC BENEFITS
Various engine power classes
Suspension concept specially optimized for the »BISON«
360° view from the hoist cabin
No lubrication necessary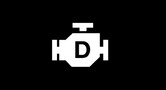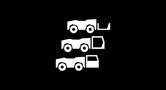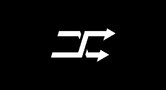 »BISON« D FAMILY IN ACTION