»SHERPA« FAMILYFOR SUSTAINED USE
The »SHERPA« family offers the ultimate efficiency. The product line was developed with modular design in mind: Standardized parts with sophisticated options for customized vehicle designs. Long maintenance intervals save money and ensur e operational readiness.
»SHERPA« DMODULAR PLATFORM
Customize your »SHERPA« tractors to fit your individual needs!
»SHERPA« D provides powerful and reliable support for a wide range of tasks on the Airport apron.
Compact design and cabin variants: cabless, open cab and closed cab
Diesel engine with three different power classes
Same vehicle – different weights: Optimal traction and pulling force thanks to ballast weights of 4-8 t, with maximum maneuverability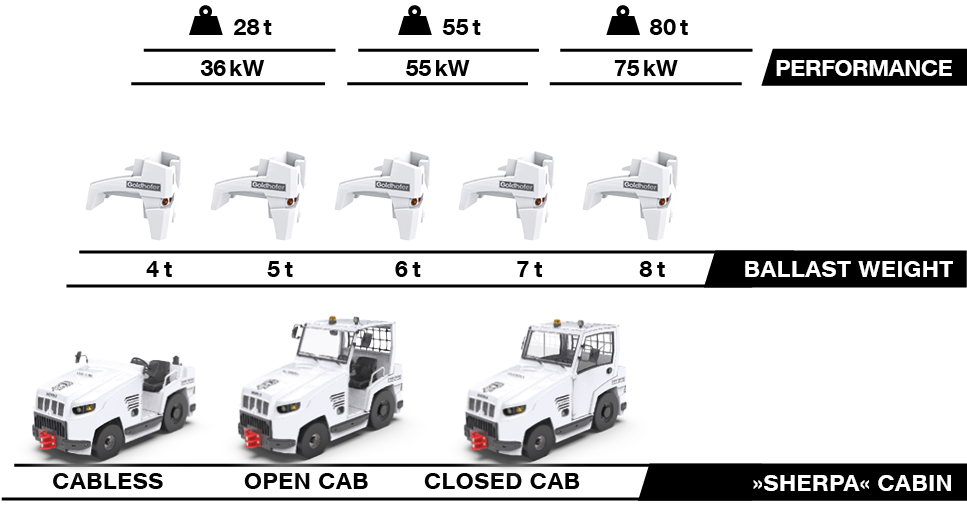 Multi-PurposePushback for business jet
For small airports specializing in handling private jets, flexible equipment is crucial – it must be safe and reliable in all functions.
That is why we developed the »SHERPA« to not only be used as a cargo tractor, but also to be capable of moving aircraft up to 50 t MTOW.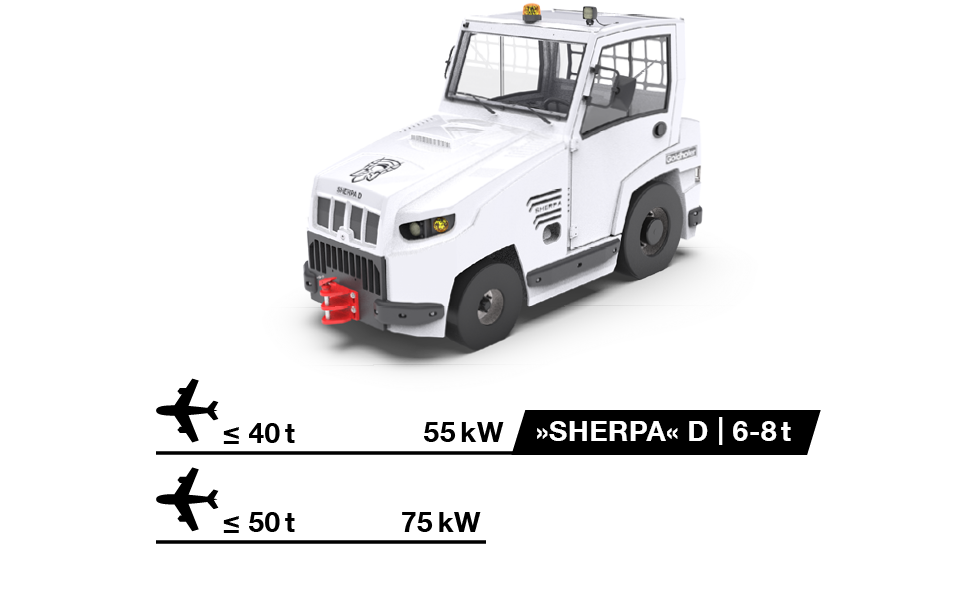 COUNT ON »SHERPA« DMAXIMUM PERFORMANCE
All »SHERPA« models offer uniform operation
Extremely quiet operation
Even on a 3% incline, loads of up to 50 t can be handled with ease
The different drive trains allow speeds of up to 30 km/h
The tried-and-tested front axle with optimized suspension enables excellent maneuverability
A dual circuit braking system and a separate parking brake ensure maximum safety
Sophisticated cockpit with simple operation and ergonomic seat position
Robust, long-lasting components made by quality manufacturers
Minimal maintenance for long-term operational availability
THE »SHERPA« DINDIVIDUAL VALUE

DIAGNOSTICS AND MAINTENANCE
Information and error messages as plain text in the multifunction display
Parking brake as spring-loaded disc brake on the axle mount
Maintenance hatch in the cabin foot well for easy access to filter, transmission, oil gauge, and filler neck
Disc brakes on front and rear axle do not require adjustment or readjustment
Optimized hydraulic system with reliable gear pumps for long-term use
Lubrication-free drive shaft
In use on every continent and in all environmental conditions, from -20 °C to +50 °C
Three cabin designs: Cabless, open cab, closed cab
Small turning radius of 3.95 m
VEHICLE-SPECIFIC ADVANTAGES
Various engine power classes
Leaf spring suspension developed specially for the »SHERPA« with high suspension comfort
360° view from the cabin