DYNAMIC CONSTRUCTION SITE LOGISTICER

The low dead weight of the »ALLROUNDER« ensures that high payload can be achieved. Utilizing its wheel recesses as well as the long, deep and extra wide excavator trough enables various construction machinery to be transported quicker and without complications with a lower loading height.

An integrated ramp lock ensures more efficiency and less personnel time and set-up time, as it can be executed fully automatically at the push of a button and without any additional equipment in one-man operation. Comprehensive lashing points on the vehicle also provide high flexibility for the most varied loads.

The »ALLROUNDER«, with its compact vehicle design, enables an extremely large variety of applications. An intelligent design, construction and production concept guarantees reduced investment costs and makes the »ALLROUNDER« into one of the highest economical solutions for you.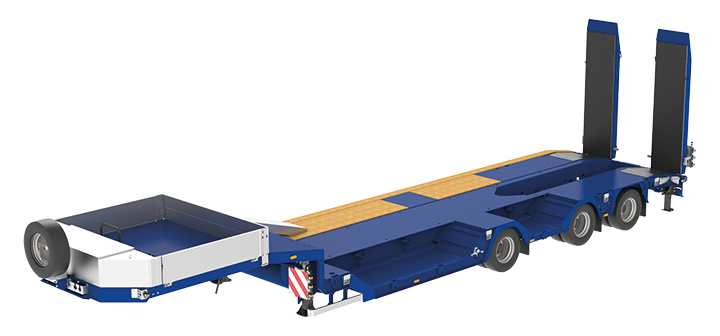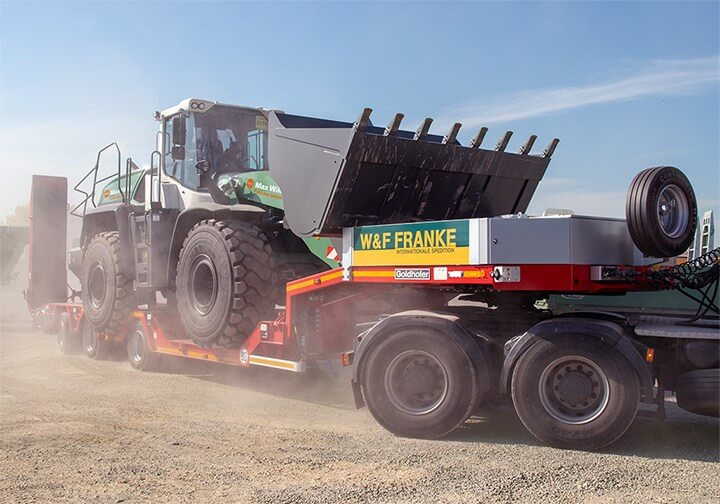 Long, extra wide excavator trough and low wheel recesses
Lowest loading heights to fulfill the most stringent height guidelines
Comprehensive lashing points for the most varied loads
Increased flexibility in use
Integrated ramp lock
Increased efficiency
+ Axle load
(depending on country-
related regulations)
10 t at 80 km/h
(technical)
10 t at 80 km/h
+ Fifth wheel load
18 t
+ Loading height
860 mm
+ Axle stroke
200 mm
+ Tires
245/70 R 17,5
+ Vehicle width
2,550 mm
+ Loading area length
8,700 mm / 9,350 mm
+ Knorr "TIM"
+ Wide load marker boards
+ Working lights
+ Lift axle
+ Spare wheel carrier
+ Front wall
+ Sidewalls
+ Premium tool box
+ Loading ramp
+ Stowage aids for stakes
+ Stowage aids for width-extending planks
+ Electrohydraulic power pack
+ Outriggers
+ Threaded bushes
+ Wheel recess covering
+ Rubber pads
+ Various rear designs, suspension rail
+ Mechanic/hydraulic ramp sideshift
+ Climbing pads
+ Mechanical and hydraulic landing legs
+ Detachable ramps
+ Ramps in a variety of widths, lengths and coverings
+ Mechanical ramp with spring lever