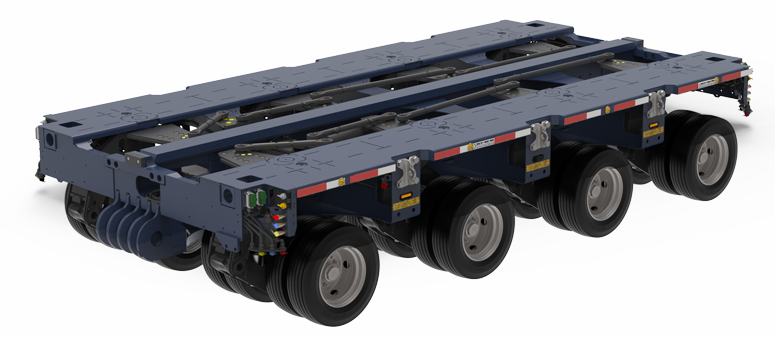 THE FUTURE OF HEAVY HAULAGE
The Goldhofer »FT SERIES« unites semitrailers of the heavy payload class and heavy-duty module combinations for road transportation. You can adapt this sophisticated transport system individually to your requirements and also to your existing fleet. Configure your basic vehicle simply and easily in just five steps. The »FT SERIES« already considers future requirements today by allowing changes to be made to the transport system at any time and without complications. This reduces your total cost of ownership sustainably and allows you to look forward into the future with confidence.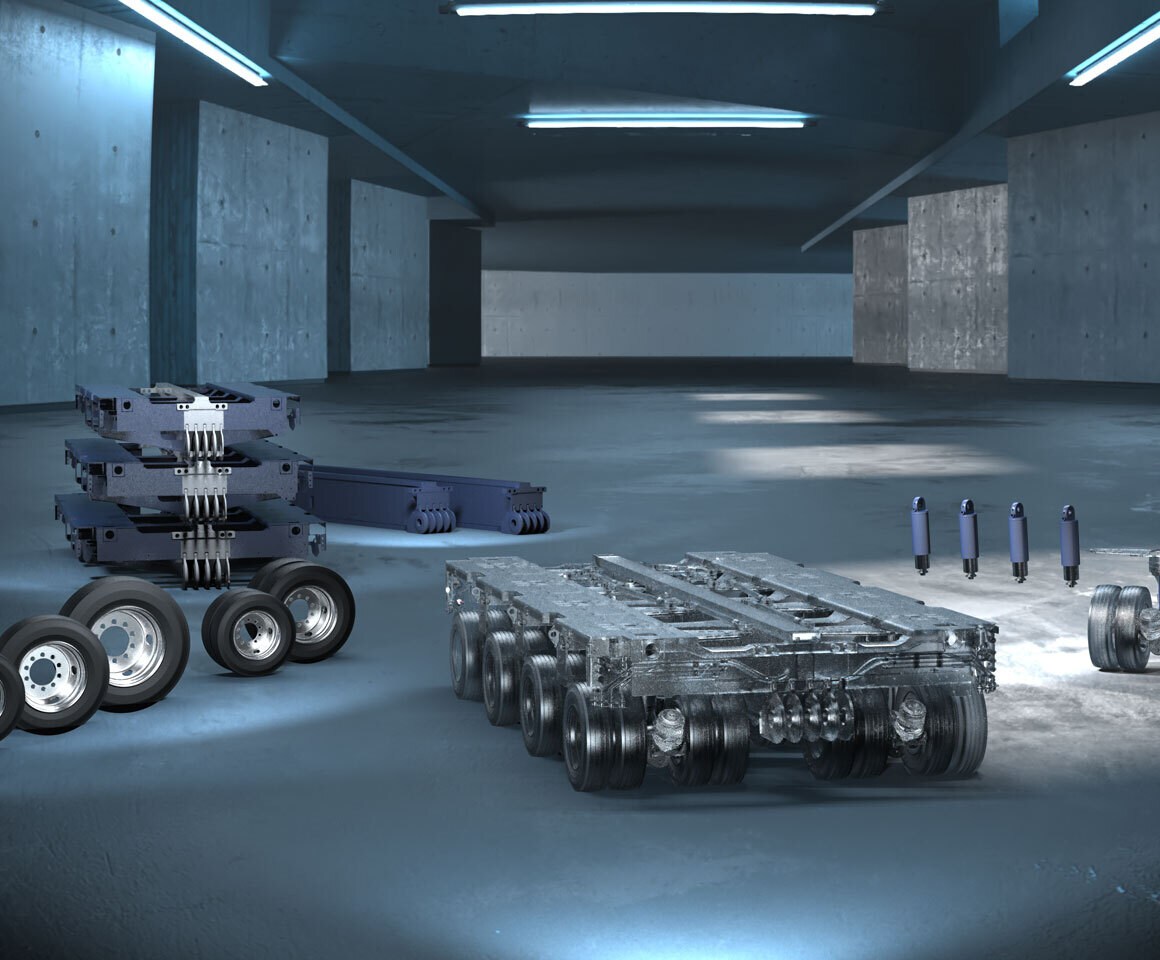 Step 1: TIRES
Single tires 225 / 60 R 17.5 | 245 / 70 R 17.5 | 285 / 70 R 19.5
Twin tires 205 / 65 R 17.5 | 215 / 75 R 17.5
Step 2: FRAME WIDTH [1]
2,550 mm | 2,750 mm | 3,000 mm
Step 3: FRAME THICKNESS
Standard | Reinforced
Step 4: AXLE COMPENSATION CYLINDER
Suitable for the entire Goldhofer-heavy-duty portfolio
THP/ET, THP/LTSO, THP/LT, THP/UT, THP/MT, THP/ST,
THP/SL-Familie, STZ-VP (285), PST-Familie
Step 5: CHASSIS VARIANTS
1-axle | 2-axle | 3-axle
4-axle [2] | 5-axle​​​​​​​ [2] | 6-axler [2]
[1] Only selectable for single tires.
[2] Optionally with countersteering.
With the groundbreaking »FT SERIES« you achieve unprecedented flexibility during operation. Intelligent accessory packages allow you to combine the »FT SERIES« with almost all Goldhofer chassis - regardless of the basic width or tires. Existing accessories such as decks or goosenecks can also be used without any problems. The portfolio will be completed by sophisticated solutions such as spacer for extendable loading platforms or chassis with excavator boom recesses.
Investing in the »FT SERIES« opens up new business models that may not have been possible before. For example, the flexible adaptation can be used to gain cooperation partners or open up the cross-rental-business.
VALUE-ADDED DISINVESTMENT
Thanks to the subsequent and simple replacement of the axle compensation cylinders and the purchase of combination packages, the pool of potential customers is no longer limited to "matching" vehicles in the event of a sale. This decisively increases the sales proceeds and contributes to maintaining the value of your fleet.
EASIER ACCESS TO THE USED MARKET
The »FT SERIES« also contributes to a sustainable reduction of your total cost of ownership with easier access to the second-hand market. For example, loading equipment such as bridges can be adapted through
combination packages. In addition, desired fleet additions can be facilitated through subsequent modification of the »FT SERIES« chassis.
+


Basic width


2.500 mm
2.750 mm
3.000 mm
+

Bending moment

Standard
Verstärkt
+
Axle stroke
640 mm (± depending on tires)
+
Axle spacing
1.500 mm
+
Max. steering angle
± 60°
+

Number of axles

Standard: 1-6 [1]
Chassis with excavator boom recess: 4-6 [2]
[1] 4-6-axle optional with counter-steering
[2] only single tires, reduced bending moment
Single tires
Type
225/60 R 17,5
|245/70 R 17,5
|285/70 R 19,5
Max. axle load [3]
23 t bei 5 km/h
23 t bei 10 km/h
Loading height (loaded)
770 mm
820 mm
935 mm
Twin tires [4]
Type
205/65 R 17,5
|215/75 R 17,5
Max. axle load [3]
26 t bei 20 km/h
Loading height (loaded)
770 mm
820 mm
[3] only at 3,000 mm basic width available
[4] depending on country-specific requirements
General accessories

+

Hydraulic unit
Hatz 10 kW / 13.6 PS
Kohler 17.9 kW / 24.3 PS
+
Operating sign
+
Wired remote control

+

Radio remote control
Swivel arms [1]
+
Swivel arm for single width
+
Center steering swivel arm for parallel combination (1+1/2)
+
Center steering swivel arm for parallel combination (1+1)
+
Drawbar 2 m, 3 m and 5 m
Goosenecks

+

Combination gooseneck 35 t

+

Universal gooseneck 35 t, 45 t und 52 t
Turntable
+
100 t / 200 t [2]
+
300 t / 400 t [2]
Flatbeck deck
+
Construction height 250 mm / 300 mm
+
Length 7,000-12,000 mm [3]
+
With/without coupling point, overrideable/not overrideable
Vessel bridge
+
Construction height 450 mm, 500 mm or 650 mm

+

Length 7,000-13,000 mm [3]
+
Width 3,000-6,000 mm
+
Fixed or extendable
Excavator deck
+
Construction height 350 mm, 450 mm or 500 mm
+
Length 7,000-13,000 mm [3]
+
Fixed or extendable
Spacer
+
8,000-15,000 mm (depending on version, extendable up to 40,000 mm)
+
Extension stages 1-4
Spacer for excavator boom »FT SERIES«
+
4,600 mm / 6,100 mm / 7,600 mm
Intermediate deck
+
Length 3,000-9,000 mm
Blade transport device
+
FTV 550
+
FTV 850
High girder bridge
+
»FAKTOR« 5.5
+
»FAKTOR« 5.5
Tower adapter
+
RA 2
+
RA 3
+
RA 4
[1] Zugeinrichtung für »FT SERIES« erforderlich (rückwärtskompatibel)
[2] Kapazität pro Drehschemel-Tisch
[3] Auf Wunsch Sonderlängen von 3.000-15.000 mm