SELF-TRACKING DOLLY COMBINATION FOR LONG LOADS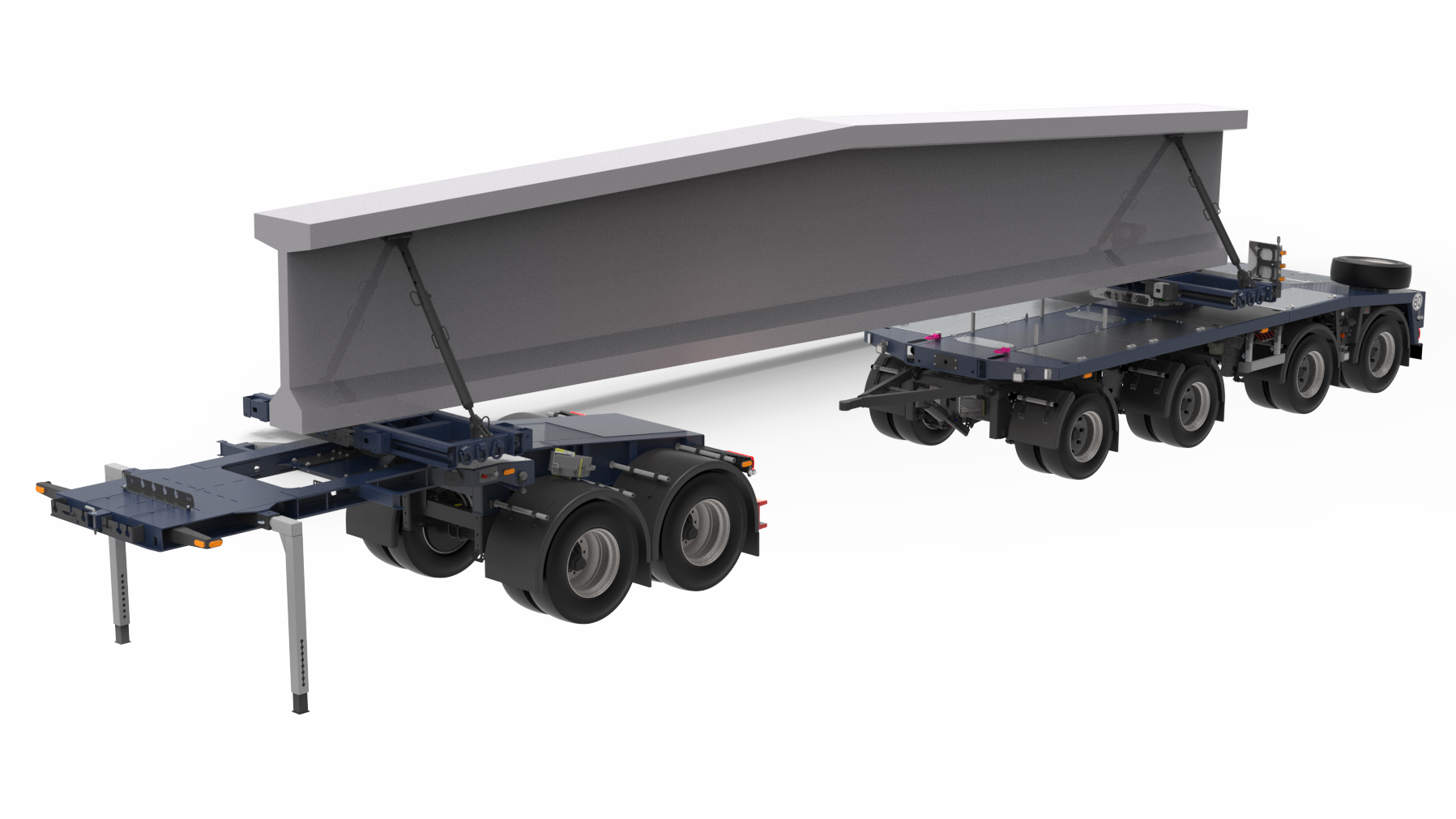 FLEXIBLE - ECONOMICAL - SAFE.
In 2020, Goldhofer further perfected the concept of the load functioning as the connecting element between the tractor unit and the trailer with its »BLADES« blade hauler used in combination with a self-tracking trailing dolly.
Driven by the wind and now optimized for the construction industry, Goldhofer's engineers have integrated larger tires into the overall concept. The result is a flexible trailing dolly solution
that can be used not only for transports to wind farms but also to construction sites. All the know-how gained from special transportation operations with highly sensitive and ultra-long turbine blades is now being applied to shorter loads, too. The concept benefits from the simple operation, high levels of stability and various enhancements developed for the high-performance wind power industry. User-optimized operation and adjustment of the steering at the push of a button are two of the factors that contribute to maximum efficiency and help save resources. This combines the current focus on wind energy with the benefits of planning security in the construction industry. Due to the high level of demand for such transports in the wind power and construction industries, the trailing unit is a multi-talent with a quick ROI that makes it highly popular with customers.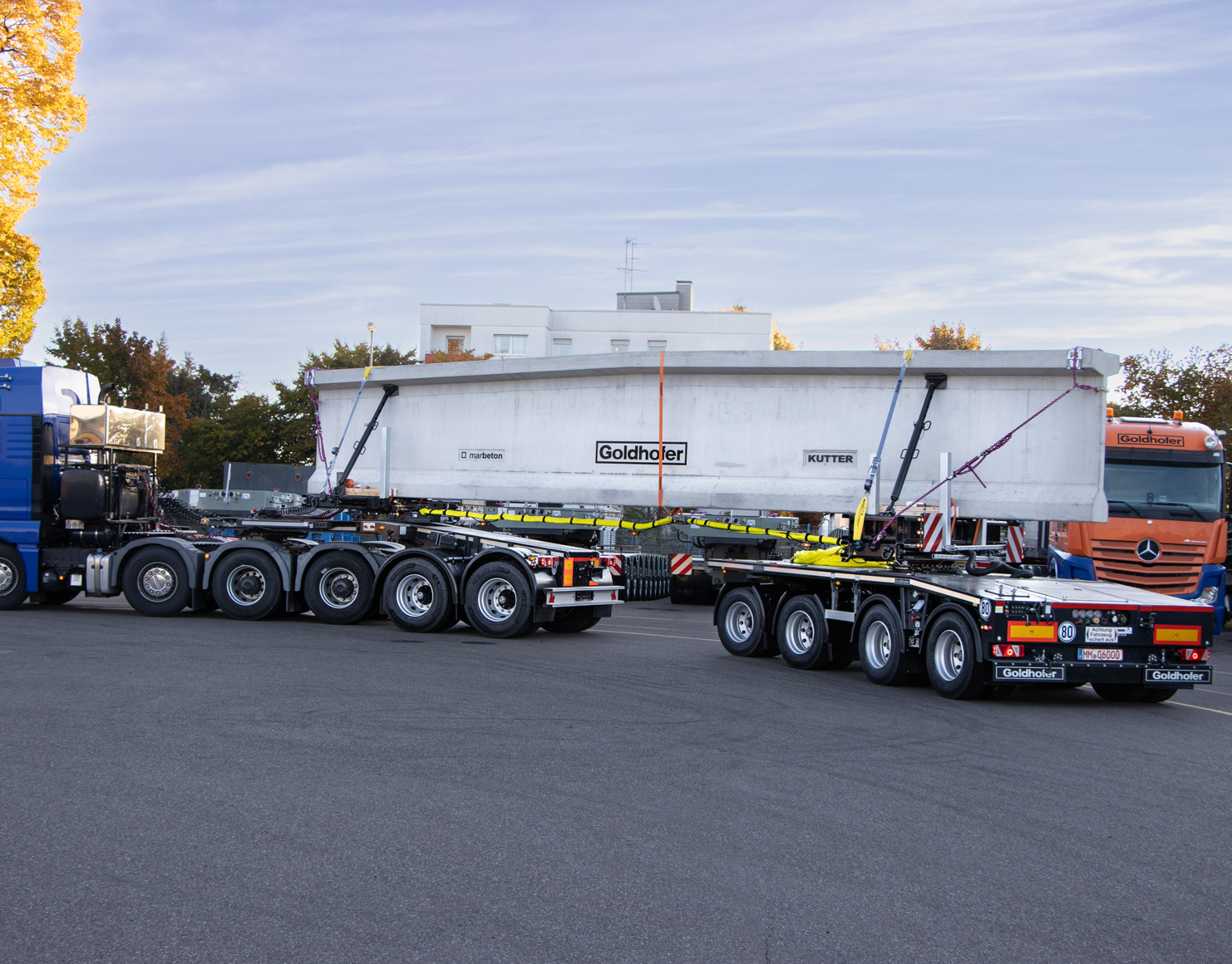 High ground clearance below the load
Easy negotiation of obstacles on the route
Low overall weight and less fuel consumption
Reduced overall transport costs
Transports of different loads with >70 t payload possible
Flexible, future-proof transport solution
Turntable steering angle +/- 100°
High agility, especially when maneuvering
+
Axle load
(depending on country-related regulations)
(technichal)

10-12 t at 80 km/h
12 t at 80 km/h
+
Axle stroke
200 mm (± 100 mm)
+
Tires
Twin tires
245/70 R 17.5 [1]
+
Dead weight [2]
4.0 t
+
Vehicle width
2,550 mm
[1] optionally 315/80 R 22.5 tires possible
[2] depending on chosen tires
+
Axle load
(depending on country-related regulations)
(technichal)

10-12 t at80 km/h
12 t at 80 km/h
+
Axle stroke
190 mm (+ 105 / -85 mm)
+
Tires
Twin tires
245/70 R 17.5 [1]
+
Dead weight [2]
8.0 t
+
Vehicle width
2.550 mm
+
Maximum steering angle
±50° steered axle
±20° trailing axle
Combination with SN-L 5 or various THP modules equally applicable
[1] optionally 285/70 R 19.5
[2] depending on chosen tires
| | | | |
| --- | --- | --- | --- |
| + | | Inclined sprouts (easy foldable) | |
| + | | SX-U available with ball bearing race ring or fifth wheel coupling | |
| + | | »SmartControl« (radio remote control for easy operation of all hydraulic functions) | |
| + | | Support trestle for height equality between front dolly and rear dolly | |
| + | | Adjustable pocket stakes at the turntable | |